There is currently a bug with the client that prevents it from connecting to the server. If you are affected by this bug, you will need to download and install the latest client version 2.1.0. The new version can be downloaded here:
https://www.eso-database.com/en/add-data/
Community Screenshots
Add Character or Guild
Windows: ESO-Database Client
---
Our ESO-Database Client synchronize your The Elder Scrolls Online character and guild data with the ESO-Database in the background. The client also keeps itself and the ESO-Database AddOn up to date.
---
Client Screenshots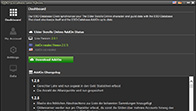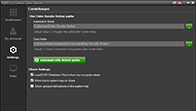 Manual upload
---
If you wish to upload your data manually, you can do so. Click the button below, to go to the manually upload info page.
Linux
---
With this script you can upload the AddOn data on Linux based systems. Please insert your username, password and your SavedVariables paths in the header section of the script.
Required packages
sudo apt-get install jq curl